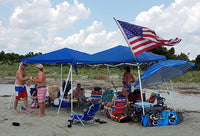 Bring it!
The key to a long beach day is comfort. You'll need drinks, eats, shade, tunes and anything else to simply keep the day going. Chuck Wagon allows you to bring everything you're going to need without feeling like a "Beast of Burden."
About Chuck Wagon
The best beach wagon on the market!
Chuck Wagon is made from anodized aluminum to prevent rust and reduce weight. The liner is made of a durable canvas to support the load and easily fold into the wagon when collapsed. It also has an extended handle for better leverage and an extra wide grip for two handed pulling. 
The most important aspect is the balloon pneumatic tires ideal for pulling a heavy load through fluffy dry sand. The idea is based on the same concept used by snow shoes in the arctic to increase the surface area at contact to support the heavy weight on top without sinking. Plastic and solid rubber tires are great for grass and concrete, however they just aren't up for the challenge on sand.
Many wagons exist on the market, but our's is the only combination of a collapsible frame with large pneumatic tires. Own this original product from a Veteran owned business designed specifically for Lowcountry beaches!
Chuck Wagon
The origin story...
Chuck Wagon was born out of necessity because existing beach cart models didn't meet my standards. They were either too cumbersome, equipped with poor tires that would crack or plow deep into the sand, made of poor materials, and all came with too short of a handle that made pulling these horribly crafted carts that much more of a challenge.
This wagon is for the avid beach goer and families who not only need a chair and a cooler, but also a canopy, an umbrella, a radio, and plenty of beach toys. Chuck Wagon is the tool to get you from the car to your favorite beach spot with the best beach cart experience possible. 
I named it Chuck Wagon, as an homage to beaches of Charleston, SC ("Chucktown"). I was also born and raised in Leavenworth, KS where the Oregon Trail originated and so-called chuck wagons provided early Pioneers with food and equipment as they headed west. The name just made sense. 
Please reach out if you have questions. Order one today!
John McCollum
john@chswagon.com
913.306.1599